Injections containing exosomes possess enormous healing potential. In fact, these regenerative cells possess tremendous healing capabilities and are ideal treatment options for patients battling many different conditions or diseases. Derived from the Wharton's jelly found in the umbilical cord, exosomes can regenerate damaged tissue. These cells also contain collagen, proteins, peptides, cytokines, and growth factors that aid in the healing and regeneration process. The impacts of injections containing exosomes are long-lasting and help to reduce or eliminate the need for invasive procedures.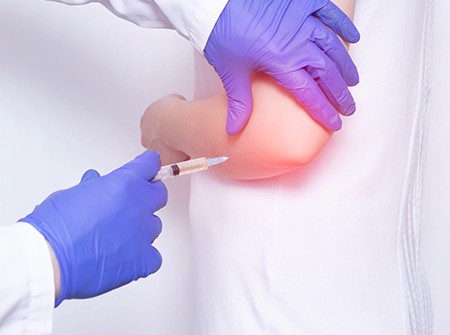 Regenerative Medicine
Regenerative medicine is becoming very popular as an alternative to invasive procedures or prescription pain medication. The natural aging process decreases the body's ability to heal itself, making it more challenging to recover from injury or illness. Regenerative treatments assist in the body's healing process. Two types of regenerative medicine are platelet-rich plasma (PRP) and regenerative cell therapy. Both of these procedures are safe and effective.
Regenerative cell therapy using exosomes derived from Wharton's jelly found in the umbilical cord are highly effective at regenerating damaged tissue. These cells are young and highly potent, which gives them a high healing potential.
Platelet-rich plasma uses platelets from the patient's blood. Platelets contain growth factors that help reduce inflammation and repair degraded cells. Only a small amount of the patient's blood is drawn and then spun in a centrifuge to separate the plasma. The platelet-rich plasma is injected directly into the area in your body that needs healing.
Mesenchymal Cells
Mesenchymal cells are capable of becoming a variety of different types of cells because they are un-programmed. Their ability to grow into other kinds of cells means they have immense potential to treat many diseases and conditions.
Mesenchymal cell treatments assist the body in healing and regenerating damaged tissue. These injections provide an alternative to prescription medication for pain relief. They also offer a non-invasive alternative to surgery.
Platelet Rich Plasma
Platelet-rich Plasma (PRP), is another type of regenerative medicine. Platelet-rich Plasma is exceptional because it uses a patient's blood to help promote natural healing of injured tissue, muscles, joints, ligaments, and more. Platelet-rich Plasma injections are a non-invasive procedure option. PRP injections help the patient heal and they also reduce pain without the risky side effects of using opioids.