Aesthetics
Our highly qualified team utilizes advanced technologies to offer innovative treatments in regenerative medicine for aesthetics, such as wrinkle reduction, scar healing, and hair restoration. Whatever your aesthetic goals, we are committed to providing patient-centered solutions in a comfortable and friendly environment.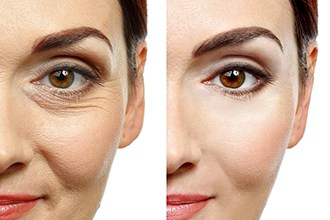 Wrinkle Reduction & Skin Rejuvenation
Vampire Facelift
A Vampire Facelift is one of the most effective regenerative medicine treatments for wrinkle reduction and skin rejuvenation. The procedure involves injecting a platelet-rich plasma (PRP) serum, processed from your blood, into your skin's collagen layer to reduce wrinkles naturally.
PRP contains growth factors that immediately go to work stimulating the production of new skin, blood vessels, and collagen. Although you will notice a healthy glow to your skin immediately following the injection, regular treatments every 3 to 6 months yield added benefits. You will see a smoother appearance, decreased pore size from new skin growth, and firmer skin due to the increase in elasticity from replenished collagen.
Botox® Injections
Another popular procedure for skin rejuvenation and wrinkle reduction is Botox treatment. This popular treatment reduces the appearance of deep, persistent facial lines and wrinkles, leading to a more youthful look.
The procedure is completed at our medical clinic, and there's virtually no downtime and very few risks. Botox injections are minimally invasive and can combat both fine lines and deep wrinkles anywhere on your face and are suitable for treating crow's feet, frown lines, jowls, a dimpled chin, and necklines and bands, among other wrinkle issues.
Facial Fillers
You can naturally reduce wrinkles, restore volume, fill lines, and plump and redefine lips with our facial fillers. Our dermal filler of choice is FDA-approved Juvéderm, which is world-renowned that restores facial contours and improves signs of aging.
Depending on the specific areas to be treated, the entire procedure takes around 15 to 60 minutes and is completed in the comfort of our office.
Dermal fillers are used as wrinkle reduction treatment for:
Grooves around your nose and mouth
Lines on your forehead
Lines that run from your mouth to chin
Frown lines
Scar treatment
Lip enhancement
Hand rejuvenation
Hollow eyes
Nose contouring
And more
Hair Restoration
Hair restoration is a natural hair loss treatment where PRP is injected into the scalp to accelerate natural hair growth. The procedure is suitable for combating both hair loss in men and hair loss in women. If you to get back the hair you had, we can help you with our effective platelet-rich plasma restorative procedure. It's safe, painless, and proven to get results.
We believe that your case is unique. After a comprehensive assessment, our medical director and founder will design the best type of aesthetic treatment plan for you. Whether you're interested in natural treatments to reduce wrinkles, for scar removal, or for hair regrowth, we have the ideal solution for you.
If you are looking for non-surgical treatment for aesthetics in Tampa, The Villages or any nearby city in the Tampa Bay area, call us today at (727) 310-5772. Our doctors will ensure that you get the comprehensive aesthetic and regenerative treatments you desire.