Back Pain
Regenerative medicine will treat that annoying, persistent chronic pain in your lower back. Using the suite of advanced regenerative medicine treatments at our orthopedic clinic, our experts are committed to getting you all-natural pain relief for your chronic back pain. Our board-certified doctor brings 40 years of experience in treating orthopedic conditions to patients in Tampa and surrounding areas.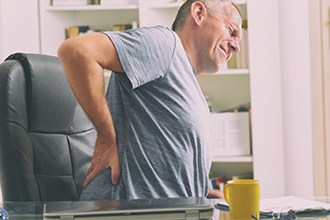 Lower Back Pain Relief
Severe back pain can restrict your mobility and limit how well you carry out your daily activities. Lower back pain ranges from mild to severe, and it can be disabling. We will provide you with a thorough examination to determine the root of your lower spinal pain, which is essential to getting rid of pain for good. We don't want to hide your pain; we want to cure it.
Regenerative Cel Therapy for Back Injuries
Regenerative medicine is a highly useful way to treat spinal pain. It involves the collection and use of therapeutic cells to regrow, repair, or replace damaged or diseased tissue. We provide two non-surgical procedures suitable for treating your sore back.
Regenerative Medicine Injections
We use healthy, carefully screened donor tissues to treat your back issue and thus your pain. Our injections may source tissue from amniotic fluid or umbilical allografts. Amniotic fluid is an often-discarded biomaterial that contains valuable nutrients, hormones, and antibodies. It contains amnion, a concentrated source of cells, proteins, and growth factors that stimulate tissue growth and reduce inflammation.
We also use mesenchymal cells from the Wharton's jelly of umbilical cords. These cells are naturally regenerative, making their use in treatment highly effective for patients suffering from severe pain.
Platelet-Rich Plasma (PRP) Injections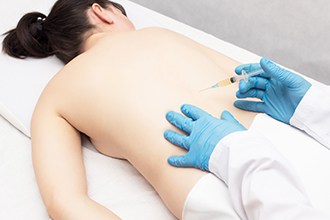 PRP injection is another non-surgical treatment that accelerates healing by inciting your body's cells to act. After drawing a small sample of your blood, we process it to concentrate the platelets. When injected into the affected area of your back, the cells within the injection further the process of regeneration and self-healing.
Spinal Pain
We have successfully treated painful spinal conditions such as bulging discs, herniated discs, and annular tears with regenerative therapy. Because of their regenerative and repair properties, cells are uniquely suited to healing damaged discs and promoting spine health.
Without regenerative medicine intervention, degenerative conditions that cause general and lower spine pain will not heal on their own. You may have heard that medication or surgery are required to address chronic pain. That's not true. Medication just deals with your symptoms, and we have safe alternatives to surgery. Our regenerative medicine treatments, whether it's cel ltherapy or PRP injections, offers you a simple, non-invasive procedure to heal the damage causing your back pain.
Back Pain Causes
Quite often, back problems and the resulting pain have a variety of causes. Your pain may be the result of:
Strenuous activity
Overuse of muscles
Improper use of or strain on muscles
Trauma, injury, or fracture
Degenerative disc disease or infection
Obesity
Poor muscle tone in the back
Muscle tension
Muscle Spasms
Sprain or strain
Ligament or muscle tears
Joint problems
Herniated discs
Bulging discs
Abnormal growth
Osteoarthritis
Don't let debilitating back pain affect your life any longer. We are your source for powerful regenerative medicine in Florida. If you are looking for effective and long lasting relief for back pain in Tampa, The Villages or any nearby city in the Tampa Bay area, call us today at (727) 310-5772. Our doctor will design a treatment strategy with you, to alleviate your pain and improve your quality of life.