Knee Pain
Regenerative medicine therapy is a safe, effective way to get all-natural pain relief from chronic knee pain while avoiding medication and surgery. Our orthopedic doctor has extensive experience helping patients recover from pain using regenerative medicine. Serving patients in The Villages and Tampa area for more than 40 years, we regularly treat patients suffering from knee pain.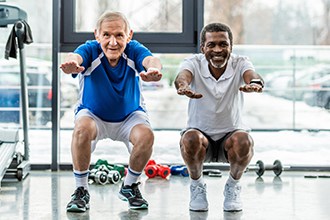 Knee Pain Relief
Regenerative medicine helps repair knee problems thus reducing the pain by maximizing your body's unique ability to repair and restore cell function naturally. Therapies within this innovative branch of medicine are minimally invasive and aid in repairing damaged tissue.
Regenerative therapy and platelet-rich plasma (PRP) injections are two non-surgical regenerative medicine treatments offered at our modern and fully-equipped medical center.
These therapies are the best all-natural treatment methods available for repairing joints, rebuilding bones, restoring ligaments, and improving knee pain symptoms.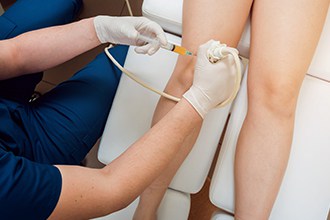 Regenerative Therapy for Knees
Regenerative therapy involves injecting mesenchymal cells into your damaged knee tissue. Once in your body, these cells initiate your body's natural healing mechanisms to accelerate joint and tissue repair. The safely donated mesenchymal cells that we use are young and highly concentrated in the injection to give your body an incredible healing boost. After treatment, the new cells will reduce inflammation, generate new blood vessels, and release proteins promoting new cell growth.
Another regenerative therapy we use to treat knee injuries is platelet-rich plasma (PRP). This procedure works similarly to regenerative therapy, except the concentrated platelet injection is processed from your blood, during an in-office procedure. These platelets contain regenerative growth factors that stimulate your body's repair response and create a natural pathway for your body to heal.
Benefits of both regenerative treatments include:
Increase in naturally occurring anti-inflammatory agents
Increase in bone density
Low risk of adverse side effects
Increase in range of motion, flexibility, and functionality
Knee Pain Causes
It's easy to understand why your knee is susceptible to injury. Your knee bears your body weight, is subjected to repetitive movements, and withstands the stress of quick stops and turns when you engage in sports.
Regenerative therapy can help alleviate many of your painful, severe knee conditions. We recommend regenerative treatment for anyone suffering from the following knee problems:
Knee ligament injuries
Runner's knee
Knee tendonitis
Water on the knee
Back of knee
Pain when bending
MCL tears
Torn meniscus
Knee joint pain
Knee cartilage damage
Knee pain affects your mobility. Discomfort and the limitation of daily activities cause stress and worry. Chronic pain rarely goes away on its own, leading many patients to opt for more invasive surgeries. That doesn't have to be you. Join the long list of patients who have used our regenerative medicine therapies to successfully treat knee problems while avoiding pain medications and complicated surgeries.
If you are looking for effective and long lasting relief for knee pain in Tampa, The Villages or any nearby city in the Tampa Bay area, call us today at (727) 310-5772.