Migraine Headaches
Our doctor is a regenerative medicine practitioner, serving patients in Tampa, The Villages and all nearby cities in Florida. As a board-certified orthopedic doctor with more than 40 years of practice in treating chronic diseases, he is committed to finding the underlying causes of your migraine headaches. With the help of all-natural, cutting-edge regenerative medicine pain relief therapies, we will develop a customized approach to treat your migraine headache symptoms.
Migraine Symptoms
Migraine headaches are intense pain on one or both sides or back of your head. If your headache is severe, you may experience a sharp, throbbing sensation that gets worse when you move around. It affects your face and neck and disrupts you from carrying out normal daily activities.
When left untreated, migraine symptoms can last between four hours and three days. Other symptoms commonly associated with a migraine attack include:
Nausea and vomiting
Heightened sensitivity to light, sound, and touch
Headache behind the eyes
Poor concentration
Sweating
Hot and cold chills
Diarrhea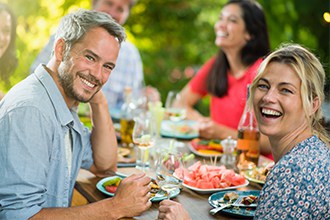 Migraine Relief Treatment
You might have considered medication for your severe headache, but most over-the-counter medicines hardly ever address the underlying causes of your pain. Plus, overuse of drugs can lead to increased symptoms. Our medical clinic prides itself of providing headache diagnoses and recommending the most effective regenerative medicine treatment to help you get all-natural pain relief.
We provide two regenerative medicine treatments, regenerative therapy and platelet-rich plasma (PRP) injections. Both therapies focus on activating your body's natural healing and rebuilding mechanisms to regenerate cells and tissue, repair damage, and restore proper function to structures in your body.
What Causes Migraine Headaches?
Tension Headache
The most common form of migraine headache, a tension headache, causes pain in your head, neck, and behind your eyes. Tension headaches usually occur one or two times per month on average but can also be chronic. Certain foods, activities, and other migraine triggers, such as driving for long periods, eye strain, a cold or flu, and too much alcohol or caffeine, can bring on a tension headache.
Sinus Headache
When your sinuses get blocked, pressure builds up and causes pain in your cheekbones, forehead, or the bridge of your nose. Sinus headaches get stronger when you move your head suddenly or with strain.
Cluster Headache
Cluster headaches occur in cycles or "clusters," which can last for weeks or months. These headaches are severe and strike quickly, causing excruciating pain in the back of your head that radiates to your face, neck, and shoulders. Exertion, colds, and other benign conditions and activities are believed to cause cluster headaches.
You don't have to live with the excruciating pain of a migraine. Our team of medical professionals has successfully diagnosed and treated many migraine cases. We can provide you with the best regenerative medicine treatment options to eliminate your headache symptoms, without the need for medication.
If you are looking for effective and long lasting relief for migraine headaches in Tampa, The Villages or any nearby city in the Tampa Bay area, call us today at (727) 310-5772. Our doctor will carefully explore your condition and determine if regenerative therapy or platelet-rich plasma injections are the right migraine treatments to get you fast all-natural relief.