Neuropathy
If you've been diagnosed with peripheral neuropathy or you believe you're suffering from its effects, it's essential that you contact a medical professional. Our orthopedic doctor is experienced in diagnosing and treating patients with foot, leg or hand pain. We use breakthrough regenerative treatments to target the causes of peripheral neuropathy for all-natural pain relief.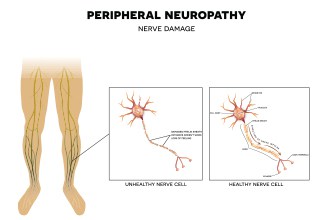 What is Peripheral Neuropathy?
Peripheral neuropathy can be difficult for a patient to detect because it's not a single disease. It's a term used to describe disorders that arise because of damage to your body's peripheral nervous system.
Neuropathy means nerve disease or damage. You develop this disease as a result of damage to the network of nerves transmitting information between the brain, via the spinal cord, and others part of your body.
This serious multi-symptom medical condition causes abnormal sensitivities that lead to burning pain, muscle wasting, paralysis, or organ or gland failure. Symptoms tend to worsen over time.
Nerve damage causes numbness in feet and tingling in feet, which gradually progresses to the hands and fingers. Nearly all patients with neuropathy in the feet also have lower back issues. Certain organs like the heart, genitals, stomach, intestines, and bladder can also be affected.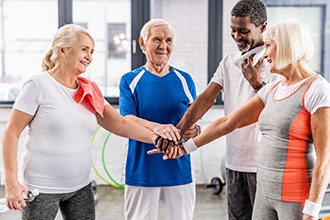 Treatment For The Pain, Numbness And Burning
Regenerative medicine is a cutting-edge branch of medicine that unlocks your body's potential to restore damaged cells and tissue caused by injury and degeneration. The regenerative therapies offered by our orthopedic doctor have helped many patients suffering from foot, leg and hand pain.
Cell Therapy Treatments
Your body holds the key to heal itself, but as you age your body's regenerative abilities slow down. Regenerative therapy treatments have been proven to help reverse nerve damage. Once injected into your body, these young donor cells go to work healing and repairing damaged cells and tissue. What's remarkable about this therapy is that its minimally invasive and can be an outpatient procedure.
Platelet-Rich Plasma (PRP) Injections
Platelet-rich plasma injections are made of concentrated platelets processed from your blood plasma. PRP therapy is also a non-surgical procedure that can be completed with zero downtime or surgical complications. The technique releases growth factors into the areas affected by neuropathy to accelerate your body's natural healing and tissue renewal process.
Neuropathy symptoms that have improved after using regenerative therapies include:
Numbness in hands
Tingling in hands
Nerve damage
Neuropathy in feet
And more
Causes of Neuropathy
Certain factors like high glucose levels affect your risk of developing neuropathy. Those with diabetes and neuropathy symptoms frequently benefit from regenerative treatment.
Other causes of neuropathy are:
Having a high level of blood triglycerides
Being overweight
Smoking
Hypertension (high blood pressure)
Rather than addressing the root cause of neuropathy pain, most healthcare workers merely focus on managing symptoms. We believe in thoroughly assessing our patients and are committed to developing a comprehensive regenerative therapy treatment plan that combats the underlying cause of your nerve damage.
If you are looking for effective and long lasting relief for neuropathy in Tampa, The Villages or any nearby city in the Tampa Bay area, call us today at (727) 310-5772.