Sciatica
Are you feeling sharp, electric-like pain from your hip to your feet? The skilled orthopedic doctor at our pain relief clinic has been diagnosing the cause of sciatica for more than 40 years. We can determine the cause of your sciatic nerve symptoms and recommend an appropriate, all-natural regenerative therapy to help you live pain-free.
Sciatica Nerve Pain Treatment
Sciatica is not a single diagnosis. The condition describes symptoms that develop when one or more of the nerves that exit the lower back become irritated or compressed. Since many conditions can cause sciatica, determining the factors that contribute to your sciatica is critical to treating sciatic pain.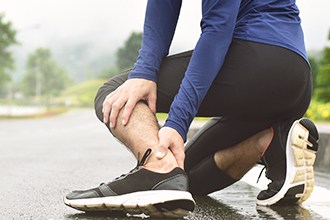 Regenerative medicine treatments, such as regenerative therapy platelet-rich plasma (PRP) injections might be the solution you are searching for to alleviate your sciatica symptoms.
PRP Injections
The PRP procedure helps your body regenerate and repair injured or torn muscles, tendons, ligaments, cartilage, and bones in the hips, lower spine, knees, and ankles, all of which are on the path of this major nerve, making the therapy quite suitable for sciatica pain relief.
The noninvasive treatment uses the plasma and platelets from your blood, which is rich in growth factors. Platelets help your body heal itself from injuries that may be compressing or otherwise impacting the sciatic nerve.
regenerative Therapy Treatment
Our regenerative therapy treatment is another simple procedure that's carried out as an in-office procedure. We use cells extracted from Wharton's jelly during umbilical allografts. These young and vibrant cells are donated by healthy, pre-screened mothers during a planned C-section birth. Wharton's jelly contains an exceptionally high quantity of cells, which is optimal for an injection, offering you the most potent healing solution.
Sciatica Nerve Pain Relief
We've had success in treating sciatic nerve pain with our regenerative medicine therapies because we care about finding the cause and treating that specific issue. We will inject this renowned treatment into the site of injury or irritation to help your body recover and restore the communication pathway of the sciatic nerve.
Other significant improvements in sciatic nerve symptoms that follow these therapies are reduced inflammation and increased tissue repair and cell regeneration. As these same-day procedures are non-surgical and minimally invasive, they are safe and low-risk alternatives to surgery.
Sciatica Symptoms
A bulging or herniated disc that compresses or inflames your nerve roots is a common cause of sciatic nerve damage. You'll notice a disc issue as constant lower back pain. If you have severe sciatica pain, you may experience numbness, tingling, or weakness that runs down your lower back, through your hips, buttocks, backs of your legs, and down to your feet.
Additional symptoms may include:
Loss of bowel or bladder control
Back pain
Lower back pain
Hip pain
Hip nerve pain
Leg pain
Pain on one side of your rear that doesn't go away
Pain in the back of the leg that gets worse while sitting
Shooting pain that makes it hard to stand up
Our family-operated orthopedic clinic has the latest advancements in regenerative medicine technology to address your sciatic nerve damage. Don't assume that your symptoms of sciatic nerve pain will go away without treatment. In fact, once you've had a bout of sciatica, the condition is likely to reoccur.
If you are looking for effective and long lasting relief for sciatica in Tampa, The Villages or any nearby city in the Tampa Bay area, call us today at (727) 310-5772.