Shoulder Pain
Your shoulders help you with everyday tasks such as reaching, lifting, and exercising. Overused muscles in the shoulder and degeneration can lead to chronic shoulder pain. We offer innovative regenerative medicine therapies for shoulder problems, reducing the necessity for surgery that can lead to months of painful recovery. Our orthopedic doctor has been in practice for over four decades and is a leader in regenerative medicine in Tampa and surrounding areas for pain relief.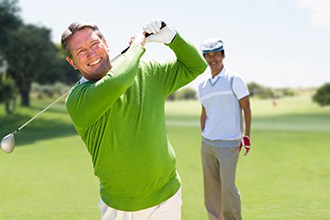 Shoulder Pain Relief
The most common shoulder injuries involve rotator cuff muscles, which work to stabilize and move the arm. When your tendons become inflamed, irritated, or overused, you may develop a condition called rotator cuff tendonitis. Other causes of pain are disc degeneration, herniated disc, and injury from a car accident or sports activity.
We believe in treating the root of your injury to help you heal, instead of masking the symptoms. We've successfully treated many patients with regenerative medicine. Our regenerative therapy and platelet-rich plasma injections provide your body with an added boost of healing agents that repair damage and soothe the pain of sore shoulders.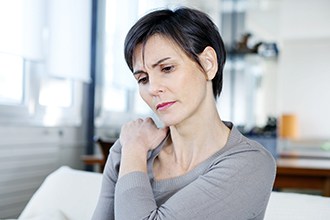 Pinched Nerve in Shoulder
You develop a pinched nerve in the shoulder when material, such as bone, disc protrusions, or swollen tissue, puts pressure on the nerves in the neck and shoulder. This condition often leads to pain and numbness of the arm and hand. Pinched nerves will typically cause pain, numbness, or discomfort in the shoulder region and extremities.
Other shoulder pain symptoms include:
Shoulder pain when lifting the arm
Pain in the shoulder joint
Sharp shoulder pain
Sore shoulder
Muscle weakness in the arm, hand, and shoulder
Neck pain when turning the head from side to side
Numbness and tingling in the fingers and hand
Shoulder Joint Pain Treatment
Regenerative medicine has yielded promising results for musculoskeletal pain, especially shoulder joint pain. Therapies falling under this new branch of medicine help your body to regenerate damaged tissues. There are two basic types of therapies we use in our regenerative medicine.
With regenerative regenerative treatments, we use mesenchymal cells. We inject young and active cells into the site of your shoulder pain, whether that's a nerve, muscle, or joint. These cells adapt and turn into whichever tissue you need to heal. These cells initiate the growth of new, healthy tissue and restore the function of your shoulder joint.
Platelet-rich plasma (PRP) injections are made of concentrated platelets that are extracted from a small sample of your blood. During the procedure, this specially prepared solution, rich with healing growth factors, is injected into the damaged area. PRP injections help restore and heal damaged tissues, signaling other helpful cells to the scene as well, to give you all-natural pain relief.
We have been using regenerative medicine to help improve patient outcomes without surgical intervention for many years. With our minimally invasive therapies, there is no downtime post-treatment, and you can avoid the risks inherent with surgical procedures.
For chronic shoulder pain, we offer safe and effective alternatives to invasive shoulder replacement surgery, so reach out to our office to schedule an appointment now.
If you are looking for effective and long lasting relief for shoulder pain in Tampa, The Villages or any nearby city in the Tampa Bay area, call us today at (727) 310-5772. Our doctor will help you determine which regenerative treatment is right for your shoulder issue.