Regenerative cell therapies use advanced, natural techniques for finding long-term pain relief. They boost the body's own healing power to relieve pain associated with injury, degeneration and disease. If you have been living with chronic pain and are looking for effective, natural pain relief, regenerative cell therapy has been proven effective for a variety of conditions that include:
Osteoarthritis
Joint pain
Plantar fasciitis
Fibromyalgia
Carpal tunnel syndrome
Back pain
Neck and shoulder pain
Hip pain
Sciatica
Migraine
Knee pain
Arthritis
Neuropathy
If you suffer from these or similar conditions, you may believe that surgery and medication are your only options for relief. Keep in mind that surgery is an invasive procedure that typically comes with a long recovery time and no guarantee of long-term relief. Medication affects your entire body and so carries side-effects.
Regenerative medicine, on the other hand, offers a natural alternative that has shown long-lasting results in patients. It also helps prevent further damage.
What is Regenerative Cell Therapy?
Regenerative procedures deliver concentrated, potent healing cells to painful areas. Injected into an injury, they speed up the repair process, promoting a faster rate of healing. When an injury or degeneration of tissue is restored, pain decreases and range of motion improves. This is a major reason that regenerative cell therapy has become more sought after in recent years.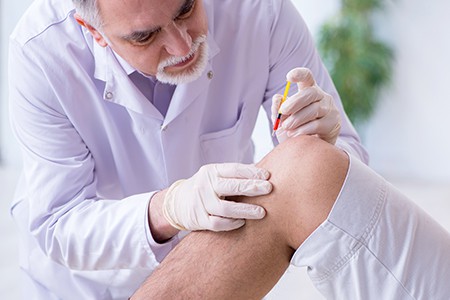 There are many cellular treatments available, but our doctors prefer regenerative cell therapy derived from mesenchymal cells. These cells have the ability to regenerate or replenish other cells and amp up the healing process.
We naturally produce cells in our bodies. These cells are undifferentiated, meaning they have the ability to transform into whatever type of cell the body needs to repair a specific area. As we age, so do these cells, making healing a slower process. Mesenchymal cells are derived from Wharton's Jelly which is found in the umbilical cords of newborn babies. The process of obtaining these cells is safe and ethical as they are collected at the time of a scheduled cesarean birth by consenting mothers.
Natural Pain Relief
When you are constantly dealing with pain, your priority is obtaining relief. Often, people find that the quickest way to get a break from the pain is through medication; but painkillers just mask the symptoms and come with their own risks. In many cases, the side-effects are often worse than the original problem.
Regenerative cell therapy has been shown to be highly beneficial for healing injuries with effective, lasting results. There are many other benefits to using regenerative medicine for pain: it treats a broad spectrum of conditions; there is little to no downtime; it allows most patients to avoid or postpone surgery or rely on medication; and it is minimally invasive.
Regardless of the type of pain you may be experiencing, it is important that you get to the root cause. Start getting your life back and enjoying your favorite activities the natural way with regenerative cell therapy.