Regenerative medicine is a natural and effective way to treat pain. Unlike conventional cell therapy, regenerative medicine therapies use young and healthy cells derived from Wharton's jelly obtained through umbilical allografts.
These cells are harvested from healthy donors at the time of birth during planned C-sections. Known as mesenchymal cells, they are young, healthy cells that have the ability to transform into a variety of cells. They can help restore or regenerate nerve-transmitting cells, tissue and even bone. These cells are high in concentrations of cytokines, peptides and growth factors, making them highly effective for healing injured or damaged tissue. Using mesenchymal cells in regenerative medicine has shown great results for patients seeking a natural pain relief alternative for a variety of conditions including:
Neck and whiplash
Back pain
Knee pain, MCL and ACL tears
Shoulder pain and torn rotator cuff
Hip and joint pain
Elbow pain and tennis elbow
Tendonitis
Torn ligaments
Foot pain and plantar fasciitis
Sports related injuries and sprains
Sciatica
Arthritis
Osteoarthritis
Rheumatoid arthritis
Neuropathy
Regenerative Treatments
When you are dealing with chronic pain, your focus is usually on how to get it to stop. Traditionally, surgery or pain medications are suggested; however, surgery is invasive with no guarantee and pain medications come with their own set of risks. Drugs used for pain tend to come with side-effects and they simply mask symptoms.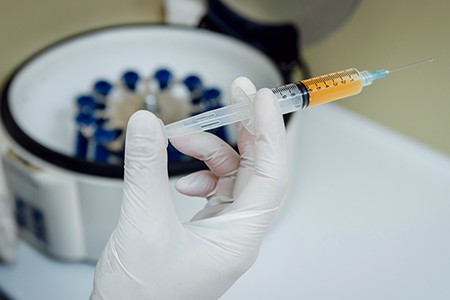 Regenerative medicine is a non-surgical treatment option, delivered through minimally invasive procedures, as an alternative to surgery or medication. Regenerative treatments often use mesenchymal cells to aid in the body's natural healing ability. These treatments have shown remarkable results because they are the youngest and healthiest cells available.
Platelet-rich plasma, or PRP injections, are another type of regenerative treatment. They distinctly different from Wharton's jelly-derived cells in source and function. They are harvested from the patient's own blood. Through its combination of growth factors and other healing agents, the injections help encourage cellular restoration and tissue repair.
PRP injections are a relatively simple and non-invasive procedure usually performed in the doctor's office. A small sample of the patient's blood is drawn and sent through a centrifuge to separate the plasma from the rest of the sample. Once the plasma is separated, it is then re-injected into the injured area to help stimulate the body's natural healing response.
Whether you are dealing with chronic pain or loss of mobility, you may think that invasive surgery or symptom-masking drugs are your only options. You may have already undergone procedures - or know someone who has - and seen a long recovery with mixed results. It's important to understand that these are not your only options.
Regenerative medicine is a natural and effective way of healing the body long-term as well as preventing further damage or injury. By using regenerative cells to restore the body, surgery and medications can be avoided - along with their side-effects. Not only can regenerative medicine heal injuries naturally, it can help restore a better quality of life.